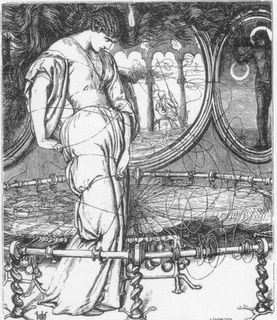 Xmas Knitting? Bah Humbug. I arrived home safe and sound and well rested(I slept from halifax to montreal station) and here I am in Kingston so far behind (b/c I slept from halifax to montreal station) having missed out on 18 hours of prime knitting time that I want to stab my self with my addis. Oh happy turbo dagger....
Here is Mum's
"Emperor's New Scarf"
(I can post the full name and link now; there's no way she's reading the blog before I give it to her...even if that ends up being sometime in january...) This is how it looked before leaving halifax. Now it looks....exactly the same but for one hole where I took the brown waste yarn out and tried to scrimp my way out of buying more butterfly cotton and finished the edging in embroidery floss. Don't do this. I found some cording that I'm de-plying from walmart and I think that will work. I just need to sit down and DO it.
Christmas miracle? Yes please. Oh and the omnipresent Hogwarts Scarf? I think I'm knitting a horocrux.
In happier news (happier than my turtley turbos) xmas shopping has tought me that everyone likes an oldfashioned Granny Square headband so I'm off to type up a pattern.
ps. I'm so sorry I missed holiday
snb (or kol?
) and the chance to see everyone's projects before they were gifted (or saved for next year as the case may be). Hope nobody thought I'd locked myself in the
Shambala shrine room
again.oops! Happy Holidays!
Soundtrack: "The Twelve Days of Christmas",Bob and Doug McKenzie