Never let it be said that I sleep alone.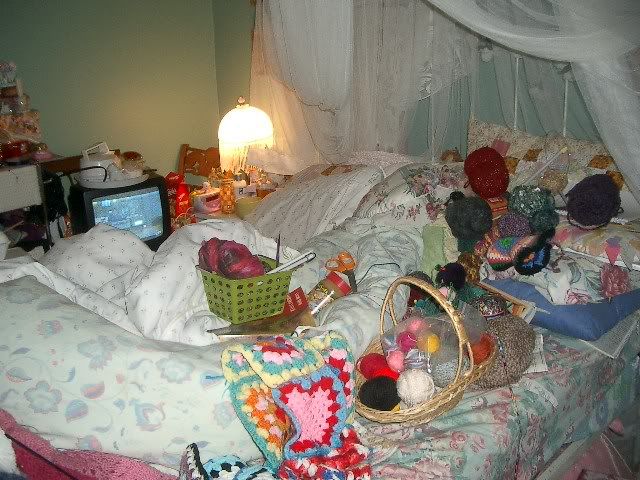 Actually, yeah, 'alone' is better than 'with novelty yarns'.
The quest for cheap, quick, sybarite (holla! lol I just typed 'holla'!) and saleable items continues 'round the clock and is yielding some um, surprising results...and shortcuts.

So the biggest cheat of all (so far) is reusing the ready made afghan blocks (granny squares mostly) that I buy in bags from Value Village whenever possible. Is that so wrong? They're washed and fabrezed....the best reason for using them is that I can not make up these wacky retro granny colour pallets on my own. I try but it never works. I don't have the afghan gene I guess. That follows as my Granny makes some of the most beautiful non tacky afghans I've ever seen (not counting the now infamous 'daisy' afghan that looks like fried eggs).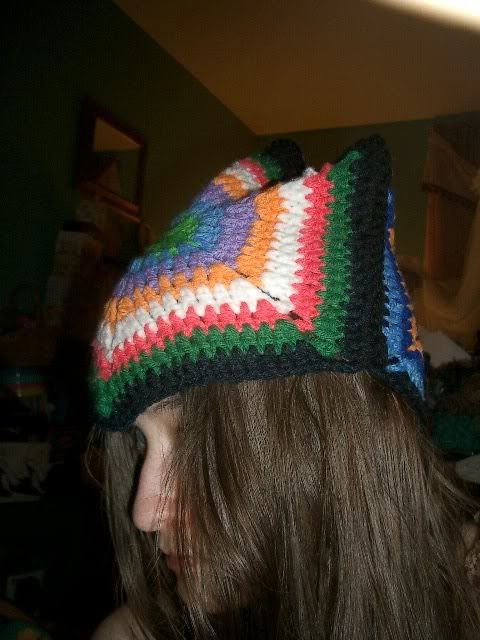 ::Anyway:: I got these weirdo granny hexagons. I thought I'd just seam two up to make a bag, which I did, but then (because I think I'm oxygen deprived at the mo) I put the bag on my head and voila!!!! I think it looks like some of galliano's 'ethnic' experiments...I tried to take photos, but what with the no oxygen thingie I look like a zombie model heroinheroine so please disregard.

In other news, Yorick is THE coolest thing I have seen on Knitty in a looooooong time! So clever!! Can I steal/modify the idea in time for the show? Can I find a washing machine to felt in? I feel like one of those people who only visit their relatives when they have laundry. I wanted to see Granny anyway; she was going to help me write a brief bio for the fashion bonanza's website. Trouble is, everything she comes up with is about herself. Apparently, I started kniting b/c I have "always been in awe of her". Also, b/c she didn't start crocheting til she was in her 50s I knew it wasn't to late for me. The way I remember it she taught me to crochet when I was like 9. Granny has also discovered jon bon jovi. ("well Morgan, you may be right about his crap music, but I like looking at him all the same. I'm deaf anyways")

Please check out my latest celeb hat photos. I hope they are proof that the bon-juvinile thing is not genetic. Colin and my old friend Jack (lol)of the Trews. Colin was so confused...It's on sideways! I guess that's how you'd model a monster hat to make it more street. lol nothing I do is remotely street. Jack was well into it as you can see. (he's wearing the same one Gordie Johnson kissed). Next on my hitlist? The Trailor Park Boys. Oh yes Bubbles, you will wear my crocheted glasses!!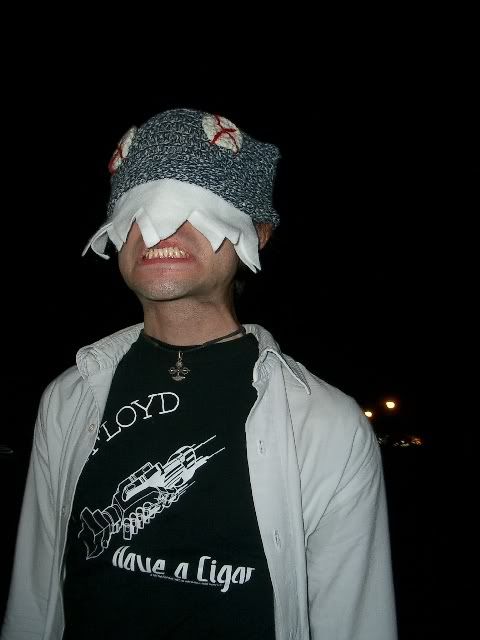 Soundtrack: "Sugar on my Tongue", Talking Heads "Train Robbers", The New Earth Mud mmmm new bootleg!