If I had a winners/losers gallery of finished objects (ala
Knit & Tonic
) this would definitely be filed under 'losers'. It's not really done yet, but I really don't have the passion or drive right now to turn it into more than it currently is: a squid casing.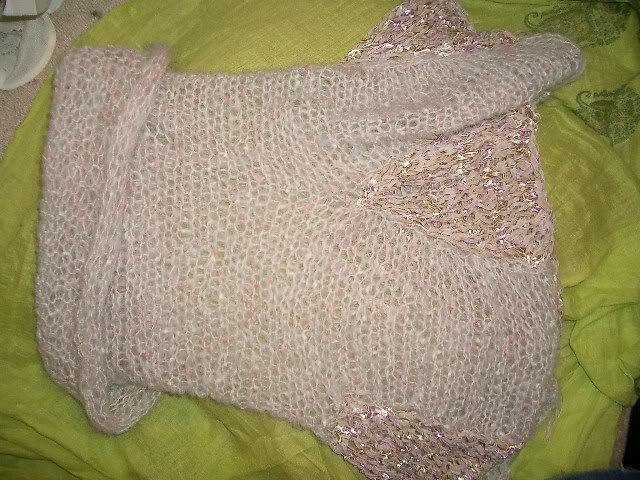 This seems to be a recurring theme for me *see
briggs and little squid casing
* perhaps I'm going through my cephalopod period? I'm sure it can be rescued in time (it's supossed to be a top I copied out of teen vogue -good god, right?) and I think the problem is that I tried to seam it during a cross country car ride with Ginny the cat in the back seat. I will pack it away under my bed until I grow enough backbone to give it a vertebrae and hope that it evolves past squid someday.
I've been so overwhelmed with knitting for xmas, and crocheting for classes, that I've been indulging in embroidery. Here's what I'm working on now: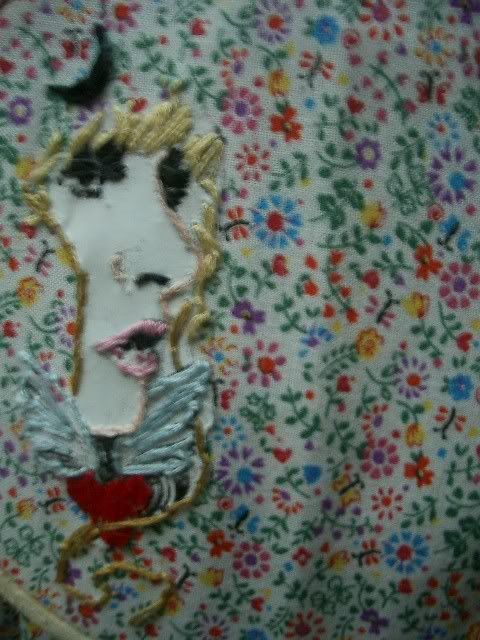 Yes, yes, it's the ubiquitous Stevie Nicks. If you're interested, click
here
to see how absolutely stunning she is these days. Hooo ha! One day I will be her shawl mistress. I will painstakingly repair the Edge of 17 and Stand Back Shawls and make her a new wrap for Illume 9/11(I saw her on Sept.10-not that that makes me qualified) No, what makes me qualified is....well you don't need to hear my theories about my double parentage or my mean Electra complex (re Lindsey Buckingham). Sigh. Maybe one day I'll post a link to my Stevie site. It used to be one of the top rated ones. (yes, they rate these things)
As for my real Mum, you may remember the jacket she commissioned in the summer (click
here
) I still intend to make it, but not for a while. In the meantime, I'm making her
Lucy's
"The Emperor's New ____" for Christmas. (I won't post a picture in case she visits the blog...and I know she wont look up the pattern w/o help from me hee hee! no, no, she knows how, I just hope she wont.) The 'thumb trick' is blowing my mind and I got so excited that I came up with a great idea w/o realizing that it wouldn't work vertically. Duh. Is there a technique that would keep those stitches live, vertically? (vs. casting off and then on again)
ps it is gross outside. I wanted it to snow but not rain as well. grrrr.
Soundtrack: Wiretap, CBC1-this is one of my favorite shows ever. "Choooooo!"