I have been crocheting my adorable ass off for the upcoming show (Nov.5). I am stressing over the difference between what would impress the average buyer, the average fashionista, the average knitter/crocheter and then what would impress me if I saw it at a show. All very different aims. I have decided that I don't care if crocheters come and know how quick the items were to make and how big a hook I'm using (mostly P) and if knitters recognise that I only duplicate stitched a lot of the motifs, I hope they don't care. Now my problem is creating things that are so unique and artistic that they bypass those issues (and my guilt) w/o alienating everyone who comes. Not everyone will want the pink mohair and lace cloche with giant pom pomed ribbons that hang to the waist, but it's undoubtedly spectacular. Unfortuntatly I now have to focus on turning out a pile of hats that are more likely to sell. (not as satisfying).
The most exciting thing about this show is that we're going to have models (!) which means I can take pictures of people wearing my stuff -people who know how to work the items to their full ridiculousness potential and best of all no more crap ass photos of my reflection in dirty mirrors. (I must remember to buy windex...)Here's two hats. Boy, they look better in person. Oh well.
A Victorian collar:
and something for the Lads: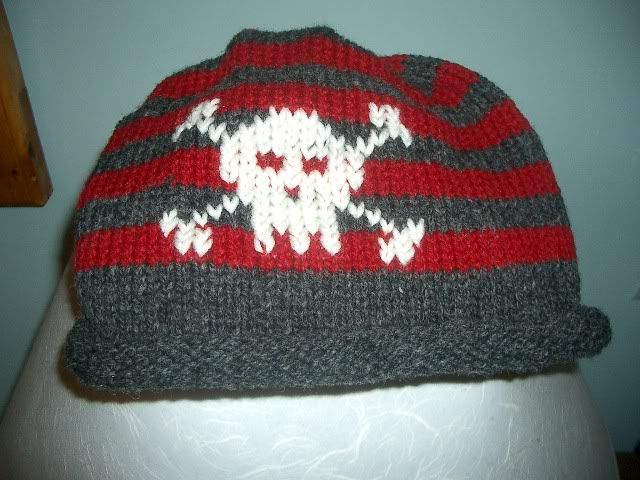 (Ignore what appears to be a double chin in the above photo)I also made this scarf which I'm in love with and I'm not sure I'll be able to part with it. I wore it out last nite to see Kate and Anna McGarrigle (who were AMAZING; they were SO funny!!! They took 10min tuning and quibling before they managed to start each song and were just like a pair of twins I know-*sigh*). I was so in awe of them that I didn't even take photos. Well, just this one, and its crappy cause I didn't have the balls to use the zoom or display screen. I just blindly took a photo from the balcony when I didn't think anyone was looking. I have decided to marry into their family. Anyone know of any openings?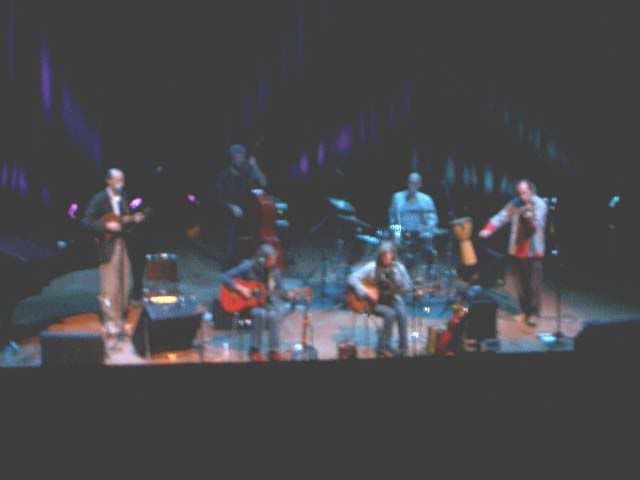 ps can you felt duplicate stitching? Will it felt consistantly w/ the base stockinette?
Soundtrack:"Matapedia", McGarrigles