And the winner is........Eeva!! The beautiful maid of Finland has won a sur-prize for letting us all know that it was 'Maritime Man' in the
celebrity-hat-photo
. She so craxy! I remember one time we had a beer in toronto and paid in dimes and pennies (it wasn't keiths though). Ah, sweet boozy memories....did you know that you can use dried corn cobs to exfoliate your legs? yes, Eeva and I have had many adventures. Here she is over breakfast (I was so sick that morning!) her skinny scarf is in 'matrix'.
So I was reading about
Moe's
struggle with (and current frogging of)
Fleece Artist
yarns (if you havn't seen them they are beautiful hand dyed yarns, often silk and a little over powering) and I thought I'd post my own fleece artist conundurm.
My Mum bought these two hanks (sold as a kit for a jacket) in the summer and then designed this jacket with bell sleaves to be made from it. (My Mum doesn't knit lol) She understands that she is definatly not getting this for xmas. The mc still needs to be bought; a royal blue, and the FA mohair and bouclè will be the squiggles that go up from the bottoms. Ummm I think I can do this but the thought of it is making me a little nuts. Any ideas of a pattern I could base this on?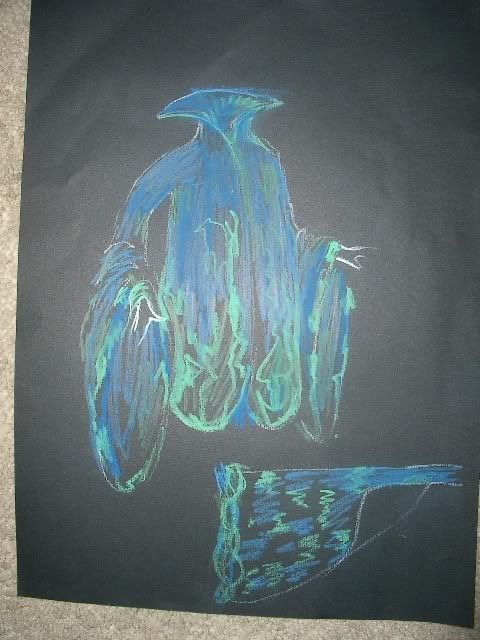 I'm going to send her this swatch of nikki epstein's (my go to gal) embossed twining vine leaf to see if she can come up with something made of that for christmas. Should be much quicker. (picture is dark-sorry!)
In per knitting news I am getting really sick of making hats and scarves for the show so I found myself a challenge. It's the "Peplum Pullover" from the winter2002 VK. It has twisted cables, puffs, bobbles, eyelets and ruffles. Sounds god-awful doesnt it? I will make it anyway, I just have to find a sub for GGH 'Aspen'. I want to make this for cheap! (In case I look like a cartoon character in it).

Today I stopped a pretty girl on the street so I could get a look at her sweater. So cool! More chunky bulky weight yarn though. Why must it be so $$$? I am once again a slave to bernat. ick.

Soundtrack: the bastards upstairs who can NOT play guitar!!! Shut up!!!! D,C,G. We all get it!!! Enough!