Okay here is my BIG news..............I have my first knitting job!!!! Wheeeeeeeee!
Junk and Foibles
is a vintage clothing store here in downtown Halifax and they want armwarmers and legwarmers and fingerless gloves for winter. I am v.excited BUT....how shall I make them something I'm proud of and yet not so fancy or time consuming that I don't get my money back? I'm thinking a simple lace pattern wouldn't take too long and that if I make plain arm thingies and duplicate stitch things ontop (skulls, hearts, stars, guitars, bows) that wouldn't take too long. Has anyone else out there in blog land done this? Is it too premature to be thinking about a brand image? I don't think so but I'm pretty damn self-centred. Here's some stuff I've found inspiring lately: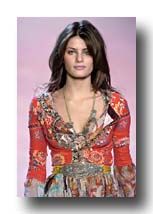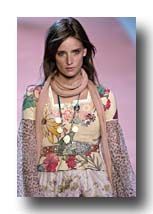 (Bluemarine s/s05) but also Twinkle's chunky stuff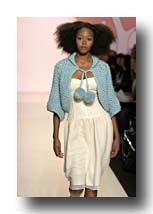 I'd like to make coverups/ warmer uppers for the stuff they sell at Free People 'cause it's a little colder up here. What do you think? Should I just stick to plain punky armbands or should I really run with this? I know that not everybody wants to look like me...but they should. Help me before I design a collection.

Soundtrack: "Silver Springs" (the real one; the bside), Fleetwood Mac