Aak! My aging ibook is really giving me trouble and I hate that I can't blog more often! I would like to have more wordy entries but my laptop (her name is 'Dreamboat Annie' the tangerine) cacks out on me after a bit.
Here's a recent FO which (as always) deserves a slicker photo.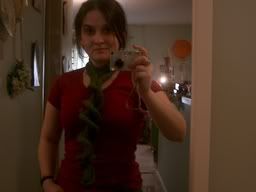 I could NOT finish my "Ruffles" scarf from IK's Scarf Style. It's a brilliant pattern but all those short rows take for-ev-er. Sooooo I bound off half and stockinetted up a collar. Here's the detail

I'm really pleased with it! I looks like a tie or a tuxedo ruffle...it also looks amazing draped down the back. Picture it in something black and silky with the ruffle down the back with an evening gown that has a low low open black. Glam! Very deco, I think.

I'm going to do something naughty and back date these next few entries b/c I don't know when I'll be able to blog again and I like all the different thoughts to have different entries. The layout just works better that way:)

Soundtrack: "Golden Girls Theme Song",Tv!
...my new Grandma's Bea Arthur...come on over....please -"California" R.W.