More celebrity hat photos; I am perfecting the technique....
This time: Terry and Dean from
FUBAR!
I went to their 'book launch' and they were sweet as pie and totally in character (I was worried they wouldn't be). If you look closely you can see that I gave them my intarsia devil horns that are at the top of the
blogspirit
site. I wanted to make them wristbands or a touque but....yeah. Dean thought it would make a good beer coaster for a fancy table, Terry thought it would make a good tie! Anyway take look at the coolest hat photo yet!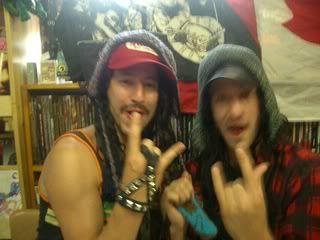 They signed my book! Terry said 'Morgan thanks for the toque, give'r, Terry' and Dean said 'Morgan, you knit well. Thanks for the devil horn! D."

Deaner thinks I knit well!!!! He gets another photo: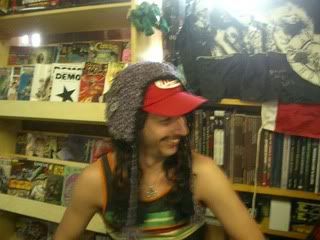 So the best is that as I left the comic store (where the signing was) this guy stops me and asks me to be in a documentary about les mecs. So...I explained about the hats (I thought I was in trouble at first) and good god I think I refered to myself as a quasi-Cynthia Plastercaster....OMG. Oh well, look for me in the movies! It freaked me out enough that I didn't go to their shindig in the evening. Came home and knit.

Soundtrack: ....man was I embarrased by my ipod.....

ps Christine, you have to see this movie-you would LOVE it!!!!

pps as always I also got a shot with me in it but as always I wont post it. THAT'S where I draw the line. lol. I will take it to SnB.