+
+
errata
+
errata
=
Annie Modesitt's "Sideways Spencer" from IK fall 2004, in Manos "Oilslick"(!) Yes, yes, yes. Smashing, smashing, smashing. Quite. I feel like Lizzie Bennett already.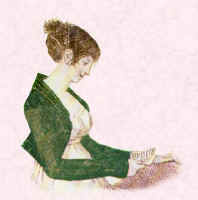 The sweater is knit cuff to cuff which was exciting and confusing until I reached the neck shaping, and the piece stopped looking so much like a cabled loincloth (thank you
loop group
boys for pointing this out).
The other finished versions I've seen have all been rather long (which I can't help thinking misses the point) so I think I'll skimp on the rib cuff. I may do this in a different colour-maybe matte (or manos-matte) grey? Lately I've been buying a lot of muted, in between type colours and colourways (sorry
Phantom Hacker)
. If there is a common link between them all I guess they all remind me of heather, rocks, and the Highlands. I'm ancestral home-sick if there's such a thing.
Alison
will know what I mean. Last night in Dyeing Class Mimi and I kept choosing colours that are inherently muddy in the same way. Our handpainting techniques are coming along but we may have to concede to bright colours once in a while. My biggest problem is that I want to mix solutions as I go and treat the dyes as watercolours. Not a good idea if you ever want to reproduce a colour scheme. And then there's that whole 'dangerous chemicals' issue. Ho hum. I had to promise I would not try this stuff at home. Maybe I will take a photo of myself in my coolio Darth Vader respirator mask. Sexy! No, no, all things in moderation. Especially Spencer jackets and Regency fashion.
Soundtrack: "Every Little Thing She Does is Magic", The Police
Sorry I really rambled today-will post photos of muddy yarns later...