I would Love to knit this. However, working all that plain creamy oatmeal stockinette at such a tiny gauge would probably send me into instantgratification overdrive and my entire apartment would be cozied. (actually, that sounds attractive-like l'Homme de Verre in Amelie but with multicoloured phentex.) At any rate I think I'll buy a long sweater, felt it down a bit and then embroider/kitchener stitch on top of it. It reminds me of Karin and Carl Larsson's work.
Carl Larsson, Suzanne and Another, 1901
I'd like to think it's something Karin would have knit. Did she knit? I don't know. She did a lot of needlework and designed her own dresses. Lately I've been musing about what various artists would knit were they so inclined. For instance, Zinaida Serebryakova. Would she have knit? What would she have made?
Zinaida Serebryakova, At the Dressing-Table, 1909
It's near fact that she would have been trained in some needlework and I would think that making her own textiles would have appealed to her sensibilities.
Just think of all the women (and men in many cultures) who, before they became famous for whatever fabulous thing they ended up doing, practised needle arts either out of necessity, nicety or simply because it was the thing to do.
I'm sure that in countless attics, hope chests and other secret places, there lurk works from the mundane to the inspired created by great artists of other genres, and spheres quite removed from those of textiles or homemaking. It's quite a practical assumption when you think about it. Interestingly, the first examples that spring to mind share a second link: social commentary and political rebellion through fine textile work. Gandhi's campaign of spinning and weaving, and Mary Queen of Scots' courtly embroidery skills which she put to good use in the tower.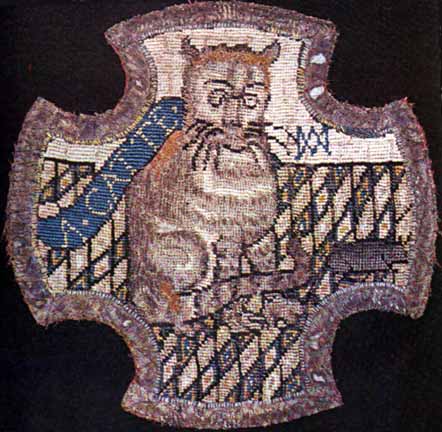 Edit: This is not from the Marian Hanging, but yes, the Ginger Cat is Ginger for a reason. ooooo, catty! Non Inferiora Secutus!
Soundtrack: "The Tower", Stevie Nicks